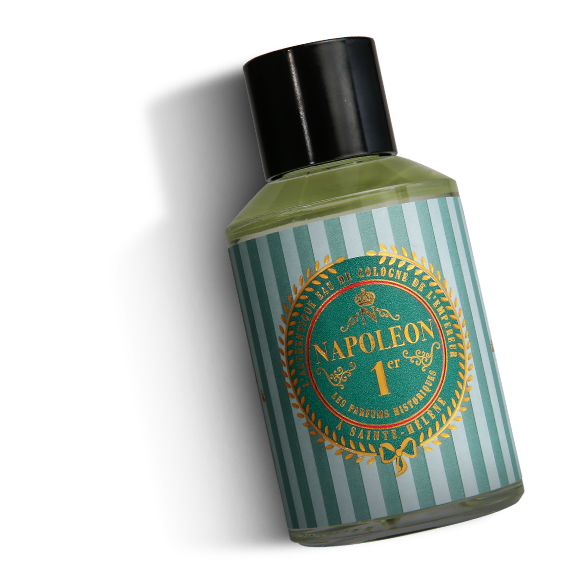 A LIGHT AND SUBTLE NOTE
With natural essential oils
A natural and authentic Eau de Cologne
When Man's Strength falls asleep, there Remains a Power, intimate and Personal, the Power of his Scent...
Your flavor accompanies you all the time by your life and leaves in your trail a particular smell which you appreciate and which defines you. According to your humor, according to your desires and according to circumstances, you adapt your rite well-being..
The Eau de Cologne brings a touch of lightness and freshness. It can be generously applied at any time of the day. Using it after washing is encouraged, to prolong feelings of well-being.
Let be surprise by lightness, fragrance and subtlety of the Napoleon Bonaparte at Saint Helena Eau de Cologne.
An Eau de Cologne produced in France
Emperor Napoleon I's Authentic Saint Helena Eau de Cologne is manufactured by the "Parfums Historiques - Gestor SAS", in Fouras - Ile d'Aix, the last piece of French land to feel the Emperor's footfall. At our production site, we faithfully manufactures and reconstructs, with the kind permission and valuable supervision of André DAMIEN, Jean KERLEO and the OSMOTHEQUE, the "EMPEROR'S SAINT HELENA EAU DE COLOGNE" based on the original formula developed by Napoleon Bonaparte's servant ALI.
To propose you an Eau de Cologne of great quality and faithful to the formula of origin, we associate craft know-how, technology and natural essential oil.
Be a part of history with "only olfactory recollection we have of the Emperor."*
*Maître André Damien, member of the "Institut de France"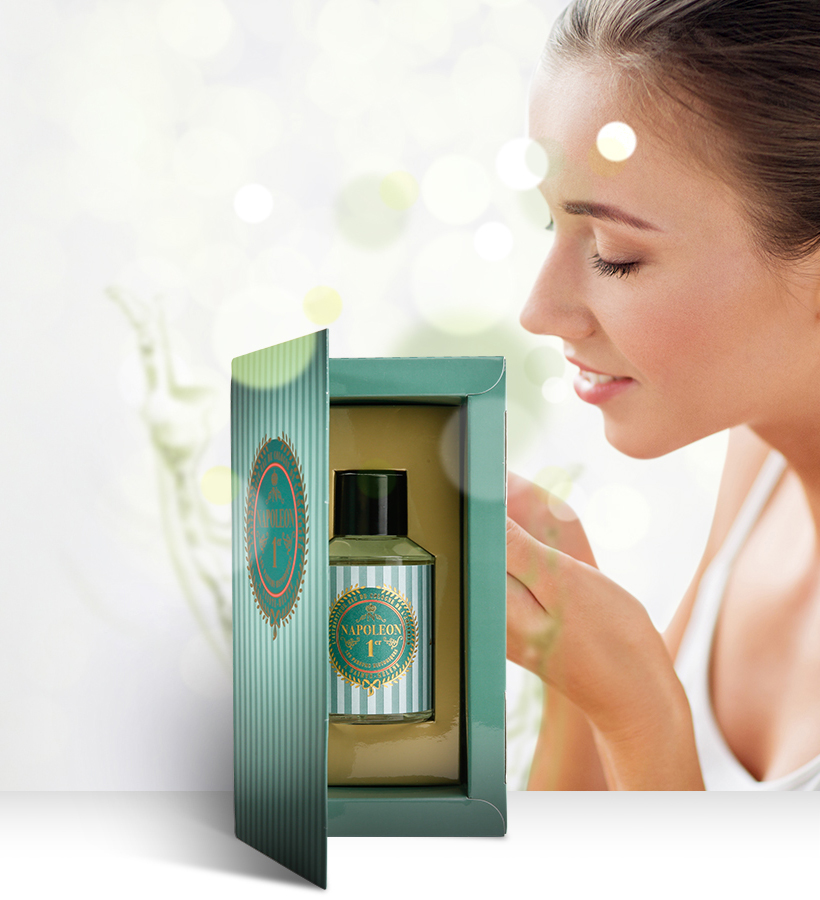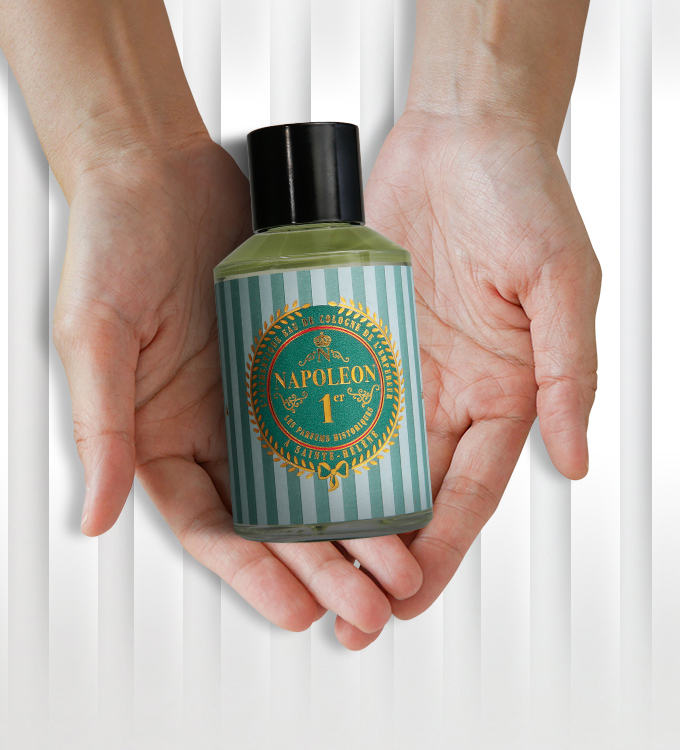 A CRAFT MANUFACTURING OF EMPEROR NAPOLEON I's ANTHENTIC SAINT HELENA EAU DE COLOGNE
During his exile on the island of St. Helena, the Emperor Napoleon Bonaparte suffered severe restrictions and he eventually ran out of the Eau de Cologne that he had used in France and at the beginning of his stay at Saint Helena. So the Emperor put his companion's memories to work, consulting dictionaries in his library, to create an artisanal Eau de Cologne which he appreciates so much.
Mameluke Ali pieced together the Eau de Cologne in a traditional way according to the local resources available on the island. Nearby, he mainly had access to citrus trees from which he extracted and collected the essences contained in the fruit peel, using compression with a natural sponge. He also harvested rosemary and cloves, which he distilled to extract their essence. These oils and some others were then mixed with wine spirit in good proportions. For the "Wine spirit", at that time, just put wine in the bain-marie of an alembic and collect the first fractions distilled Once these fractions were collected, they were re-distilled so the alcohol is refined, increasing its proof to about 90°, necessary to fully dissolve sufficient quantities of Essential Oils.
The artisanal manufacture of the Eau de Cologne was therefore perfectly possible, according to this simple technique, with local resources in Longwood by Mameluke Ali. Moreover, this process also made it possible to preserve the natural properties and the virtues of the essential oils.
Napoleon was a man very worried about his body, about his hygiene of life and about his toilet. This fresh, light and subtle Eau de Cologne, made solely of natural essences of fruit and aromatic plants, is fresh and subtle despite the artisanal methods imposed by circumstances, and is a testimony to the Emperor's refined taste.
TODAY, A NATURAL FRENCH EAU DE COLOGNE
To get closer to the manufacturing method used at the time and in this particular place, the production techniques used in Fouras minimise complex processes as much as possible.
In order to reproduce the Emperor in Saint Helena's Authentic Eau de Cologne, we use only high quality natural essential oils with well known properties in order to offer you an exceptional product.
The techniques respect the various raw materials used. In keeping with the spirit of the time and its manufacturing process, we implement our know-how and our mastery of quality natural products.
Measured in good proportions and according to the authentic formula conceived by Mameluke Ali, the quality of the olfactory harmony is respected.